Note – I received the book from the publisher in exchange for an honest review. All thoughts and opinions are my own. No affiliate links were used in this post. Thank you to the publisher and TLC Book Tours for including me on this tour!
About All Stories Are Love Stories
• Hardcover: 368 pages
• Publisher: Harper (March 22, 2016)
An achingly beautiful novel about the power of nature, the resilience of the human spirit, and the enduring strength of love
On Valentine's Day, two major earthquakes strike San Francisco within the same hour, devastating the city and its primary entry points, sparking fires throughout, and leaving its residents without power, gas, or water.
Among the disparate survivors whose fates will become intertwined are Max, a man who began the day with birthday celebrations tinged with regret; Vashti, a young woman who has already buried three of the people she loved most . . . but cannot forget Max, the one who got away; and Gene, a Stanford geologist who knows far too much about the terrifying earthquakes that have damaged this beautiful city and irrevocably changed the course of their lives.
As day turns to night and fires burn across the city, Max and Vashti, trapped beneath the rubble of the collapsed Nob Hill Masonic Auditorium, must confront each other and face the truth about their past, while Gene embarks on a frantic search through the realization of his worst nightmares to find his way back home to his ailing lover. And by morning, nothing will be the same.

Purchase Links
HarperCollins | Amazon | Barnes & Noble
My Review
This is a hard one for me to review right now. I really liked this book, but it wasn't one that really drew me in right away. I honestly think that I didn't read this at the right time. I didn't have a lot of time to read the book once I received it and when I read it I was really busy with a long to-do list, so I was feeling a little stressed out. When I finished it I wanted to read it again, but not right away. I want to read it when I have time and when I'm not stressed out about all that needs to be done. I think it'll be a good book to pull out again this summer.
This book starts off slow… I think that's just a fact about this book and I'll notice it even when I have more time to read it. I initially liked the idea of the different stories that came together in this novel, but as I read I found that throughout most of them I was waiting for one: Max and Vashti's. I thought their story was the most compelling and it's the one that really made me like this book as much as I did. The one thing I noticed about this is because it moved at a slower pace, I didn't always feel the urgency of the earthquake and I wished I had felt that more.
So, would I recommend this book or not? Definitely, yes. If it sounds good, read it. If only for Max and Vashti's story–I think theirs is one that will stick with me for awhile. But read it when you have time to read a book slowly or can really devote your attention to it.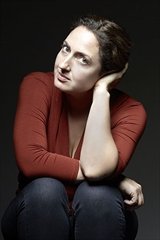 About Elizabeth Percer
Elizabeth Percer is a three-time nominee for the Pushcart Prize and has twice been honored by the Dorothy Sargent Rosenberg Foundation. She received a BA in English from Wellesley and a PhD in arts education from Stanford University, and completed a postdoctoral fellowship for the National Writing Project at UC Berkeley. She lives in California with her husband and three children. All Stories Are Love Stories is her second novel.
Visit Elizabeth at her website, elizabethpercer.com, and follow her on Facebook.