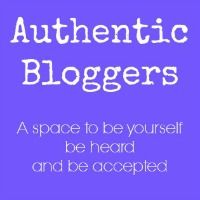 Authentic Bloggers was created for bloggers from all over the world to come together to share their daily posts and offer guidance and support for those who have a personal blog and for those who are looking to make a little money from blogging. And the support doesn't stop at blogging! Members of the group have also been sharing what's going on in their personal lives as well. Authentic Bloggers isn't just a support group for bloggers; it's become a community of friends. With how busy I've been this month, I haven't had as much time to hang out in the group and I've missed connecting with everyone!
The group has stayed fairly small since it was created, but we'd like to see it grow a bit. If this is a community that you'd like to be part of, all you need to do is
request to join the group on Facebook
!
We hope to see you there!
>> Follow me on: Bloglovin' // Instagram // Twitter // Pinterest // Facebook