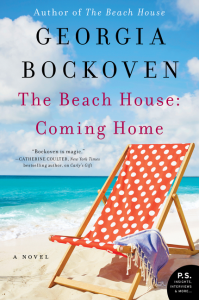 Note – I received a copy of this book from the publisher through TLC Book Tours in exchange for an honest review. All thoughts and opinions are my own.
About The Beach House: Coming Home
Paperback: 352 pages
Publisher: William Morrow Paperbacks (May 16, 2017)
Bestselling author Georgia Bockoven is at her powerful and emotional peak in this novel perfect for fans of Nancy Thayer and Elin Hilderbrand.
Unlock the door to the beach house–a place where life slows down, people come together, and love is the strongest force of all.
After you've given your baby to strangers, what do you say when someone asks if you have children?
Fourteen years ago, Melinda Campbell was fifteen and a half, pregnant and terrified. Desperate to protect her baby from a malicious grandfather and needed at home to take care of her own critically ill father, Melinda makes the most generous, heart-wrenching choice of all: adoption. Now she's living the successful life her father struggled to give her, but missing her daughter with a longing that shadows every joy.
Jeremy Richmond knows the beach house the way a painter knows his canvas, intimately and focused on detail. His life revolves around his adopted daughter, Shiloh, the girl who's owned his heart from the moment he first held her as an infant. They were a picture-perfect family until Shiloh was diagnosed with pediatric lupus and Jeremy's wife walked away.
When Shiloh tells her father she's tired of fighting her illness and wants to meet her biological mother before it's too late, Jeremy agrees to find a woman he has no desire to meet.
From the moment Melinda and Jeremy come face-to-face, they realize their worlds will never be the same. Will the beach house that has harbored troubled hearts for decades prove to be the balm they need to heal?
My Thoughts
I don't think I even read the synopsis before I agreed to join the tour. The title includes the words "beach house" and when I looked it up on Amazon, it was recommended for fans of another series that I absolutely love, so I immediately said yes. And this was a pleasure to read!
I'll start with the few "negatives" of my reading experience. I thought the book dragged in a few places, particularly toward the end. There were a lot of flashbacks, which I enjoyed for the most part, but after awhile I wanted to see them incorporated differently. I also didn't feel some of the interactions as viscerally as I would have liked. There were great spots to really up the tension and emotion. I wanted to feel it in my heart and in my gut, but I didn't.
I absolutely loved the characters. Melinda had a fascinating story and I wanted to know more about her. At the beginning of the novel I was most interested in her backstory, but as the novel progressed I wanted to see how things would work out for her with Shiloh and Jeremy. I enjoyed that my interest in her story shifted, because her past informs the woman she has become, but I also wanted to know about her present situation. I also really enjoyed Jeremy and learning more about him.
I had a hard time putting this book down–which was a good thing, because I read most of it yesterday. There were times I had to and it was always a hard thing to do. I was definitely guilty of reading "just one more chapter" over and over again.
This was a great summer read and one that I would recommend if you're looking for a book to get lost it.

Purchase Links
About Georgia Bockoven
Georgia Bockoven is an award-winning author who began writing fiction after a successful career as a freelance journalist and photographer. Her books have sold more than three million copies worldwide. The mother of two, she resides in Northern California with her husband, John.
Find out more about Georgia at her website, and connect with her on Facebook.