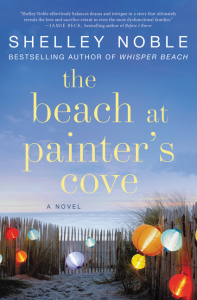 Note – I received a copy of this book from the publisher through TLC Book Tours in exchange for an honest review. All thoughts and opinions are my own.
About The Beach at Painter's Cove
Paperback: 432 pages
Publisher: William Morrow Paperbacks (June 13, 2017)
From the New York Times bestselling author of Whisper Beach comes another heartwarming story of four generations of women who reunite in their crumbling family mansion by the sea for a dramatic summer filled with love, family, secrets and sisterhood.
The Whitaker family's Connecticut mansion, Muses by the Sea, has always been a haven for artists, a hotbed of creativity, extravagances, and the occasional scandal. Art patrons for generations, the Whitakers supported strangers but drained the life out of each other. Now, after being estranged for years, four generations of Whitaker women find themselves once again at The Muses.
Leo, the Whitaker matriarch, lives in the rambling mansion crammed with artwork and junk. She plans to stay there until she joins her husband Wes on the knoll overlooking the cove and meadow where they first met. Her sister-in-law Fae, the town eccentric, is desperate to keep a secret she has been hiding for years.
Jillian, is a jet setting actress, down on her luck, and has run out of men to support her. She thinks selling The Muses will make life easier for her mother, Leo, and Fae by moving them into assisted living. The sale will also bring her the funds to get herself back on top.
Issy, Jillian's daughter, has a successful life as a museum exhibit designer that takes her around the world. But the Muses and her grandmother are the only family she's known and when her sister leaves her own children with Leo, Issy knows she has to step in to help.
Steph, is only twelve-years-old and desperately needs someone to fire her imagination and bring her out of her shell. What she begins to discover at the Muses could change the course of her future.
As Issy martials the family together to restore the mansion and catalogue the massive art collection, a surprising thing happens. Despite storms and moonlight dancing, diva attacks and cat fights, trips to the beach and flights of fancy, these four generations of erratic, dramatic women may just find a way to save the Muses and reunite their family.
My Thoughts
I loved this book! Loved it. It has everything I enjoy about a book: familial tensions, multiple generations and strong women. The art aspect and the beach were just icing on the cake for me.
First off, let's talk about my critique: the pacing felt a little slow at times and I felt like the book was a little longer than it needed to be. Did either of those things ruin my enjoyment of the novel in any way? Nope.
Okay, let's talk about what I loved!
The characters: I don't think there's a character in this novel that I didn't like. Well, maybe one, but that character is only discussed. I connected with Issy right away. At the beginning I was always a little sad when the book would shift from her perspective, but as I (quickly) fell in love with the other characters I looked forward to seeing things from their perspective as well. I loved that while Issy had what appeared to be a glamorous life–and a life she loved–it wasn't without sacrifice that she dropped everything to care for her family. I loved that those concerns carried with her throughout the novel. It definitely made her feel like a real person.
I didn't anticipate I'd grow attached to the other characters quite as much. I didn't expect to like Steph, but she was the second character that captured my attention. The author brought her to life in such a realistic way, too. She wasn't a perfect kid, but she also wasn't an obnoxious kid. I loved the moments we were able to see the world form her perspective, because it felt like such a 12-year-old view of the world–and I mean that in a good way. She was discovering things about the world and how she responded to those things… it was perfect.
All the other characters as well. I'd knew I'd love Leo and Fae–I tend to love the older female characters in stories, especially characters as unique as these two. They always capture my heart. Jillian and the rest outside of the four Whitaker women just added so much and I loved them all.
Next, The Muses. First of all, if a place like The Muses actually exists, I want to go there now. I can think of nothing better than hanging out in a cabin with Little One painting and writing.
Places like The Muses always capture my attention and I loved hearing about it's past, but also seeing what had happened to it and dreaming about what could become of it. I loved being at The Muses at this juncture of it's life, but as I read I also thought, "I want to read about The Muses back in its heyday!" And, to be honest, I want to be able to jump ahead into it's future too.
There was so much to enjoy about this novel! If you're looking for a fun, summer read that isn't all fluff, but isn't too intense, this is one to check out! With strong, quirky female characters, a crumbling house with a fascinating history, art and the beach, this is one to savor.
Now I'm off to check out Noble's other books.

Purchase Links
About Shelley Noble
Shelley Noble is a former professional dancer and choreographer and has worked on a number of films. She lives at the Jersey shore where she loves to visit lighthouses and vintage carousels. She is a member of Sisters in Crime, Mystery Writers of America, and Romance Writers of America.
Find out more about Shelley at her website, and connect with her on Facebook and Twitter.