Hello, friends!
Those changes that I talked about on Friday? They are done! As you can see, I have a new name and a new domain. When I initially purchased my old domain, it was to intended to be used as a writing blog to document my writing journey. For a few years that's how it remained, until I slowly started to add a little bit of this and a little bit of that into the mix. This fall, I really hit my stride of updating regularly with whatever I had in mind and since then it's been thinking about buying a new domain so that my old one could go back to its original intent. I also wanted to change the name of my blog as The Teller referred to a time in my life that I am no longer in.
Last week I was hit with a "now or never" feeling and I set to work brainstorming blog names with my friend Heather. It wasn't until a conversation with my dad, in which he suggested Dreams, etc. that I finally landed on the name that I wanted to give my blog. I was trying to work around the theme of being a dreamer–something that has always described me–and my dad said, "You're a dreamer, but much more than that."
So. Here we are with my new name and my new domain. This blog will stay exactly the same–with the same content that the blog had under the name The Teller. I will still talk about writing here–it's who I am–in the same way that I have in the past. But if you'd like to read about writing in more detail, check out my old domain. I'm still working out a few kinks and am hoping to have them all resolved by the end of the day tomorrow, but for now I need a little break. I've been working on blog settings all day. Also, I set up disqus comments for both blogs. I love the conversations that can result in the comments since replies are emailed so I set it up.
Have you heard about Blogmas? I love it when my favorite YouTubers participate in Vlogmas every year so when I saw that some bloggers do the same thing, I thought I'd join in. I'm not the best at doing something every single day, but I'll give it a try for 25 days. What better time to give it a shot? Christmas is my third favorite holiday after Good Friday (yes, I consider it a holiday) and Easter and I absolutely love everything about the Christmas season.
I thought I'd end this post with a linkup that I've seen and loved at Elizabeth's blog, The Sunday Currently.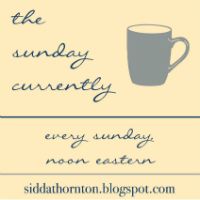 READING the novel What My Girlfriend Doesn't Know, by Sonya Sones and hoping to finish it today. I have been soaking up verse novels lately, studying them. I've read verse novels by three different authors so far and it's interesting to see what they do differently.
WRITING in some changes to my completed manuscript based on feedback that I have received.
LISTENING to Beauty and the Beast as I work on blogs.
THINKING about how sad the news about Paul Walker is. I heard about it right as I started working on blogs last night and I sent a message off to my best friend and another friend of ours from high school right away. Back in high school we collected pictures of him and spent nights giggling and squealing while watching Joy Ride.
SMELLING banana muffins baking in the oven.
WISHING that my stuffy nose will go away once and for all soon.
HOPING for snow. It's kind of blah outside right now.
WEARING a flannel nightshirt and yoga pants. That's right. It's 4:30pm and I'm still in pajamas. I also just realized that it's 4:30. This day is flying by!
LOVING my constant companions: Wolf and Little One. They're pretty sweet.
WANTING a banana muffin. They smell really good!
NEEDING a drink of water, but my glass is just out of reach and I don't want to move Wolf. I know, I'm a sucker for that little guy!
FEELING excited for my niece's birthday. It's a big one and I'm looking forward to giving her the present that I got.
CLICKING through Blogger's settings sections.