Hello, my friends. It was cold in Minnesota this weekend. Even Little One is feeling it. She still loves to go outside and doesn't want to come back in, but she doesn't spend as much time on top of the snow as she ordinarily does. Is anyone finished or almost finished with Christmas shopping? I'm still waiting for a couple of things to arrive, but all of my presents are on their way to me. I think this might be the earliest that I have ordered all presents.
It's Sunday, which means it's time for…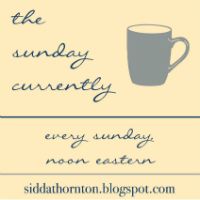 READING a Christmas book next, I think. I just finished Uses for Boys by Erica Lorraine Scheidt and I think I need something a little lighter after that.
WRITING my NaNo novel. It's perfect for this time of year.
LISTENING to a Lifetime Christmas movie. I can't help it, I love them!
THINKING that it's a little on the chilly side. Even my puppy appears to think it's cold. She'll chase snowballs and roll around on the cold, icy ground but she doesn't want to spend too much time walking on top of the snow.
SMELLING hot chocolate.
WISHING that the hot chocolate will cool off a little soon.
HOPING that the next couple of days will go by fast.
WEARING a black lounge shirt and yoga pants.
LOVING the cold weather. It's perfect for reading, writing and art.
WANTING a browned butter chocolate chip cookie with sea salt. But in order to have one I'd have to make them and… that just sounds like a lot of work right now. (Even though it really isn't.)
NEEDING to put up Christmas decorations. Usually I'm on top of decorating for Christmas as soon as Thanksgiving comes to an end, but I've been a little slow this year. I don't even have Christmas music on my phone (shocking, I know) but I plan to take care of that tonight. I should be listening to Harry Connick Jr. on my way to work tomorrow!
FEELING excited about stuff.
CLICKING through Twitter. I've been unusually addicted to Twitter this weekend.