Hello, everyone! Voting was open for the November book for the book club this week and the winning book is…
When I started to count votes I saw that there was a tie between two (Big Little Lies and Imaginary Girls), so I gave each of the comments for those books a number from 1 to 4, starting with the first comment, and then went to the random number generator. I ran it twice and each time it gave me 4, which was Steph's vote for Imaginary Girls!
As you read the book, write down any thoughts or questions that you have and email them to me at crystal.dreamsetc(@)gmail.com. Please use the subject "November Book Club Discussion" so that I know not to open the email if I haven't finished the book yet. On Monday, December 1st I will put up a post for the book club discussion and include all of the thoughts/questions you send me, along with a link to your blog or other social media. We can discuss the book in the comments of the post. I also thought that I could have a linkup, if you'd like to write about the book on your own blog and link your post. Let me know if that's something that you're interested in! Also be sure to let me know if you have any other questions.
We also need a name for the book club! Let me know if you have any ideas for one. I started to make a button for the book club today, but then decided to hold off until we have a name for it.
HAPPY READING!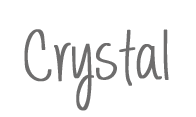 Bloglovin' // Instagram // Twitter // Pinterest // Facebook