Note – I received a copy of the book from the publisher through TLC Book Tours in exchange for an honest review. All thoughts and opinions are my own.
About Love Unleashed
Hardcover: 160 pages
Publisher: National Geographic (March 6, 2018)
A book for dog lovers everywhere. Celebrating the amazing relationships shared with our four-legged friends, each story recounts the love of dogs and the powerful ways dogs impact our lives.
In this heartwarming collection of stories, readers meet 38 incredible dogs who have gone above and beyond the job description of best friend. Each uplifting story provides an inspiring look at the animals who change our lives. Meet rescue dogs who learn to serve others, working dogs who go beyond the call of duty, and underdogs who surmount extraordinary challenges on the road to finding their forever home. This treasury of man's best friend features photographs and personal anecdotes from those who have been touched by the selfless love of a beloved pet.
My Thoughts
Have I ever mentioned that I love dogs? In case I haven't: I love dogs. Like, so, so much. I once heard that dogs and humans are the most social mammals and we're uniquely paired to be BFFs. I think I read that in a Dog Whisperer book–I'm not a fan of his, but I did read one of this books–and it totally makes sense if it's true. I'm an animal lover in general, but dogs are definitely unique. It's such a gift that we have these amazing animals who love unconditionally and who can be trained to take care of us in so many different ways. So obviously when I heard about Love Unleashed I knew I'd read it. I knew I'd love it and that it would make it cry. It did all of that. I can't think of a favorite story; there are just so many beautiful stories of dogs. I took in each story slowly; I wanted to spend as much time with each dog as I could. And of course, I hugged my own pup between each story. If you, like me, love dogs and wonder how we lucked out to have them as our best friends, you will love this book.

Purchase Links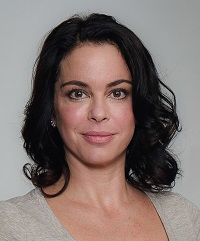 About Rebecca Ascher-Walsh
Rebecca Ascher-Walsh is a writer who specializes in celebrity and lifestyle coverage, but who also loves dogs and telling stories about amazing animals. She contributes to many newspapers and national magazines including Entertainment Weekly, Adweek, and the Los Angeles Times. She is a volunteer at a high-kill shelter in Manhattan and a founding director of the Deja Foundation, devoted to funding the medical care and training costs of dogs rescued from high-kill shelters.