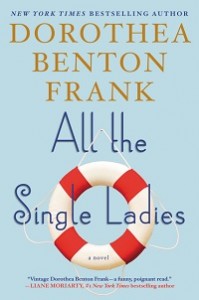 Note – I was provided with a copy of the book for review from the publisher and TLC Book Tours. All thoughts and opinions are my own. No affiliate links were used in this post.

About All the Single Ladies.
Hardcover: 368 pages
Publisher: William Morrow (June 9, 2015)
In this fast-paced and evocative novel, beloved New York Times bestselling author Dorothea Benton Frank again takes us deep into the Lowcountry of South Carolina, where three unsuspecting women are brought together by tragedy and mystery.
Lisa St. Clair knows a thing or two about weathering storms. A dedicated nurse with a healthy sense of humor, she single-handedly raised her truculent daughter, Marianne, after her ex walked out on them twenty-four years ago, sending them a lottery ticket once a year as support. One day he reappeared and lured their daughter into a dubious but lucrative venture in Colorado. Now mother and daughter aren't speaking.
So when Kathy Harper, Lisa's favorite patient, loses her battle with cancer, Lisa finds herself drawing closer to Carrie and Suzanne, the devoted friends who were always by Kathy's side. As these three women's lives inevitably connect, they share their concerns about men, getting older and the horrors of maintaining financial stability. Suzanne's ninety-nine-year-old grandmother, a former chanteuse, offers unexpected perspectives on the mores of the day. Carrie's greedy ex-stepchildren are a chorus of cackling crows. And Lisa's mother just can't help herself as she henpecks her to distraction.
Somehow their conversations always return to the enigma of Kathy. Who was she? What did her short life mean?
Lisa, Carrie, and Suzanne power walk the beaches of the Isle of Palms with Pickle, Lisa's adorable Westie. Gradually they uncover the truth of Kathy's life and unfurl plans to secure their own futures, as fate steps in to help them discover that being single doesn't have to mean being alone. Dorothea Benton Frank shows us that friendship is as powerful as the turning tide and that love is about more than just finding the right person. You'll fall under the magical spell of the Lowcountry and of all the single ladies who have a whole lot of living to do.

Purchase Links
Review
I'm going to start off by saying that the thing that kept going
through my mind as I read this was "I'm not the right audience for this
book." This was my first read by Dorothea Benton Frank and I really
wanted to like this book, but it fell flat for me. There are a
couple of reasons for that.
1) I didn't connect with
any of the characters. And, for me, connecting with the character is
key, unless the plot is incredibly entertaining (like it was in Lockdown: Escape From Furnace.)
I felt like I was at a distance from the characters and what was taking
place and I like to feel like I'm in the story. I think this was due to
the narrative style. The main character is definitely telling her
story; at times, she even speaks directly to the reader.
2)
The dialogue and actions felt unnatural. It felt rushed and it often
felt like someone would respond to someone else and brush off what they
had just said, then move onto something else. I also didn't really buy
their actions; especially when it came to the landlady.
I wondered if I was the
right audience for this book, though, so halfway through I glanced
through reviews and found that a majority of readers loved it. There
were a few like me who didn't connect with it, but most did. If it
sounds interesting to you, check it out!
I also thought that I may have had a different reading experience if I had listened to the audiobook. The story had a Golden Girls-esque feel to it–although the women in the book are younger than the Golden Girls. And while I loved the Golden Girls, I don't think I would have enjoyed it as much if I had read it in a book.
I'll
definitely read another book by Dorothea Benton Frank in the future,
though. While this wasn't my favorite, she
always pops up as recommended reading when I search some of my favorite
authors. And her books take place in the Lowcountry, which is one of my
favorite settings! There are other books of hers on my to-read list, so
this won't be my last. I'm hoping I connect with her other books better
than this one.
About Dorothea Benton Frank
New York Times bestselling author Dorothea Benton Frank was born and raised on Sullivans Island, South Carolina. She divides her time between the New York area and the Lowcountry.
Find her on the web at www.dotfrank.com, or like her on Facebook or Twitter.
HAVE YOU READ THIS BOOK? WHAT WERE YOUR THOUGHTS? IF NOT, WOULD YOU READ IT?
PS – Check out my reviews of The Sixes and Finding Jake.
// If you missed it, you can enter a $100 paypal cash giveaway!
>> Follow me on: Bloglovin' // Instagram // Twitter // Pinterest // Facebook