Note – I received a copy of this book from the publisher in exchange for an honest review. All thoughts and opinions are my own. No affiliate links were used in this post.
About This is Not Over
Paperback: 400 pages
Publisher: William Morrow Paperbacks; Reprint edition (January 17, 2017)
You'll have your deposit within seven business days, just like it says on Getaway.com. I've put through a refund to your credit card for the full amount, minus $200 to replace the stained sheets…
Miranda
When 30-year-old Dawn reads Miranda's email, she sees red. People have always told Dawn she's beautiful, and she just hopes they don't see beneath–to how she grew up, to what she's always tried to outrun. She revels in her getaways with her perfect (maybe too perfect) husband, the occasional long weekend in luxurious homes, temporarily inhabiting other people's privileged lives. Miranda's email strikes a nerve, with its lying intimation that Dawn is so dirty you need to throw out her sheets.
Beware of your "host"
I wouldn't have left a review at all, if I didn't feel it was my civic duty to warn others…
57-year-old Miranda thought she'd seen it all, but she can't believe her eyes when she reads Dawn's review. She's a doctor's wife but she needs that rental money, desperately. People might think her life is privileged, but they don't know what's really going on. They don't know about her son. She won't take this threat to her livelihood–to her very life–lying down.
Two very different women with this in common: Each harbors her own secret, her own reason why she canít just let this go. Neither can yield, not before they've dredged up all that's hidden, even if it has the power to shatter all they've built.
This is not over.
This is so not over.

Purchase Links
My Thoughts
This was a different reading experience for me. When I picked this up I was hoping for a thriller that would be fast-paced and explosive. This wasn't it.
However, I kept turning pages. I wouldn't say it was "unputdownable," because I did take breaks while reading, but I kept coming back to it. I wanted to know how the book would end. This was due in large part to the characters. I didn't understand them–how could two women let this correspondence get to the point that it did? I even went back to reread the messages they sent to see how they jumped to the interpretations that they did… I never understood. And, I didn't like any of the characters either.
But even though I didn't understand them or like them, I felt for them at certain points throughout the novel. Not any of the side characters, really, but I definitely felt for both Miranda and Dawn at one point or another.
The narrative moves a bit slowly and I felt like I spent a lot of time in Miranda and Dawn's heads/thought-processes. At first it seemed like a bit much, however I think one of the strengths of this book was to see how quickly both Miranda and Dawn were able to work themselves up and how they let outside factors twist their perception and recollection of the messages. I don't think that would have been as apparent if we didn't spend as much time in their heads.
Their reactions also helped build up the tension. I kept asking, "Is this going to happen?" or "Is that going to happen? But I knew something was going to happen and I wanted to know what that was.
Read this book if:
>> You enjoy character studies–even if the characters aren't ones that you love.
>> You like thrillers, but you don't want to read something that will have you looking over your shoulder.
About Holly Brown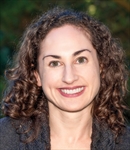 Holly Brown lives with her husband and toddler daughter in the San Francisco Bay Area, where she's a practicing marriage and family therapist. She is the author of the novel Don't Try to Find Me, and her blog, "Bonding Time," is featured on the mental health website PsychCentral.com.
Connect with Holly on Facebook.