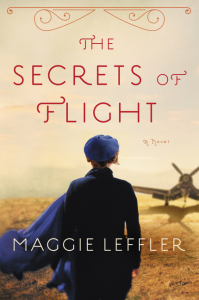 Note – I received a copy of this book from the publisher in exchange for an honest review. All thoughts and opinions are my own.
About The Secrets of Flight
Paperback: 368 pages
Publisher: William Morrow Paperbacks (May 3, 2016)
This captivating, breakout novel–told in alternating viewpoints–brings readers from the skies of World War II to the present day, where a woman is prepared to tell her secrets at last.
Estranged from her family since just after World War II, Mary Browning has spent her entire adult life hiding from her past. Now eighty-seven years old and a widow, she is still haunted by secrets and fading memories of the family she left behind. Her one outlet is the writing group she's presided over for a decade, though she's never written a word herself. When a new member walks in–a fifteen-year-old girl who reminds her so much of her beloved sister Sarah–Mary is certain fate delivered Elyse Strickler to her for a reason.
Mary hires the serious-eyed teenager to type her story about a daring female pilot who, during World War II, left home for the sky and gambled everything for her dreams–including her own identity.
As they begin to unravel the web of Mary's past, Mary and Elyse form an unlikely friendship. Together they discover it's never too late for second chances and that sometimes forgiveness is all it takes for life to take flight in the most unexpected ways.

Purchase Links
HarperCollins | Amazon | Barnes & Noble
My Review
I told my mom about a book I was reading that I loved, that I thought she would enjoy too and I wasn't even halfway through. That book was this one.
I've been on a bit of a historical fiction spree this year and this is definitely on my list of faves from the year so far! It's another novel that takes place during WWII but takes a different perspective than what I'm used to reading. This time, it's an American woman who flies airplanes. And Mary is one of my favorite types of characters to read about–a female who dreams big and goes after those dreams.
The Secrets of Flight switches back and forth between WWII and present day. I loved the extra layer this added. It helped build suspense as information about Mary's past was slowly revealed. It also allowed the reader to see her after the events of her pilot days and to see what kind of an impact it had on her life.
I also loved that it introduced us to Elyse. She reminded me of myself when I was younger, dreaming up story plots that sounded a little far-fetched. I loved her desire to write and that she decided her day job to the pay the bills was to be a doctor (that was me!). I also loved that she sought out a writing group and stuck with it, even though I'm sure it wasn't what she anticipated. And yet, staying with her writer's group introduced her to Mary and gave her a unique opportunity for a teen her age.
Not only that, but Elyse's story outside of writing and her friendship with Mary was just as compelling as Mary's story as a pilot. I loved every piece of this novel and there wasn't a story or time period that I didn't enjoy reading about. I looked forward to each piece and was ready follow the story where it led me, which isn't always the case for a novel that shifts through different time periods or points-of-view.
It was easy to read, sucked me in (obviously), and didn't have any slow moments that I can recall. I highly recommend this novel, especially if you're interested in the time period or just enjoy historical fiction in general.
About Maggie Leffler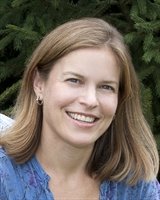 Maggie Leffler is an American novelist and a family medicine physician. A native of Columbia, Maryland, she graduated from the University of Delaware and volunteered with AmeriCorps before attending St. George's University School of Medicine. She practices medicine in Pittsburgh, Pennsylvania, where she lives with her husband and sons. The Secrets of Flight is her third novel.
Find out more about Maggie at her website, and connect with her on Facebook.
HAVE YOU READ THIS BOOK? IS IT ONE YOU'D BE INTERESTED IN?