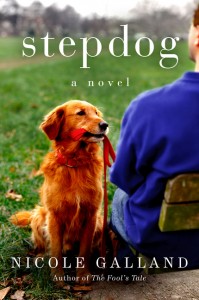 Note – I received a copy of Stepdog from the publisher through TLC Book Tours in exchange for an honest review. All thoughts and opinions are my own.
About STEPDOG
Paperback: 416 pages
Publisher: William Morrow Paperbacks (August 4, 2015)
What's the difference between puppy love and dogged devotion?
When Sara Renault fired Rory O'Connor from his part-time job at a Boston art museum, and in response, Rory–Irishman, actor, musician, reformed party-boy impulsively leaned over and kissed her . . . she kissed him back. Now, as Rory's visa runs out on the cusp of his big Hollywood break, Sara insists that he marry her to get a green card. In a matter of weeks they've gone from being friendly work colleagues to a live-in couple, and it's all grand . . . except for Cody, Sara's beloved dog from her troubled previous relationship. Sara's over attachment to her dog is the only thing she and Rory fight about.
When Rory scores both his green card and the lead role in an upcoming TV pilot, he and Sara (and Cody) prepare to move to Los Angeles. But just before their departure, Cody is kidnapped–and it is entirely Rory's fault. Desperate to get back into Sara's good graces, Rory tracks Cody and the sociopathic dognapper to North Carolina. Can Rory rescue Cody and convince Sara that they belong together–with Cody–as a family? First they'll need to survive a madcap adventure that takes them through the heart of America.

Purchase Links
REVIEW
If you are a long-time reader of my blog (or glanced over at the photo in the sidebar), you know that I have a dog. And if you're a long-time reader of my blog, you know that I'm
enamored
obsessed
serious about my role as caretaker of Little One. So when I read the synopsis of
Stepdog
I knew that I had to read it, especially since I've actually thought about what would happen if I met someone. He'd obviously have to have a high level of affection for my pup and she'd have to love him, because she's part of my life and I heart her. So this book captured my attention from the start.
The one critique I'd have about the book is the writing style. I definitely felt I was being told a story and I prefer to feel like I'm part of the story, but I was still swept away.
The characters were fantastic! I loved each of them–even Rory, who drove me (a dog-lover) up the wall from time-to-time. Even the minor characters were so vivid that I felt like I knew them. I loved that each of them had their quirks and that none of them were perfect, one in particular. (*cough* Rory and his weirdness about dog-love *cough*)
And I was hooked on the story itself. I wanted to see where things were going to go and from the start I was crossing my fingers and hoping that Rory would be hit with a deep love for dogs. After all, when you spend time with them how can you not?
Stepdog took me on an adventure that had me on the edge of my seat. I kept reaching out to hug my dog–or at least keep a protective hand on her to make sure she was still there. Highly recommended for dog-lovers and fans of lively romances.
I looked at Galland's novel Godiva a few years ago, so I'm glad I had a chance to read this and be reminded of that. It's been added to my to-read list.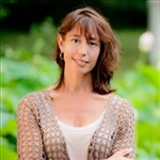 ABOUT NICOLE GALLAND
Nicole Galland's five previous novels are The Fool's Tale; Revenge of the Rose; Crossed; I, Iago, and Godiva. She writes a cheeky etiquette column for the Martha's Vineyard Times. She is married to actor Billy Meleady and owns Leuco, a dog of splendid qualities.
Find out more about Nicole at her website and connect with her on Facebook and Twitter.

HAVE YOU READ STEPDOG? WHAT WERE YOUR THOUGHTS?
PS – Check out my thoughts on Trouble is a Friend of Mine and The Wonder of All Things!
>> Follow me on: Bloglovin' // Instagram // Twitter // Pinterest // Facebook