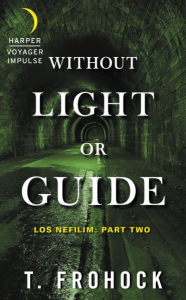 Note: I received a copy of this book, along with the first in the series, from the publisher in exchange for an honest review. All thoughts and opinions are my own.
About Without Light or Guide
Print Length: 128 pages
Publisher: Harper Voyager Impulse (November 3, 2015)
Always holding themselves aloft from the affairs of mortals, Los Nefilim have thrived for eons. But with the Spanish Civil War looming, their fragile independence is shaken by the machinations of angels and daimons–and a half breed caught in between. Although Diago Alvarez has pledged his loyalty to Los Nefilim, there are many who don't trust his daimonic blood. And with the re-emergence of his father–a Nefil who sold his soul to a daimon–the fear is Diago will soon follow the same path. Yet even as Diago tries to prove his allegiance, events conspire that only fuel the other Nefilim's suspicions–including the fact that every mortal Diago has known in Barcelona is being brutally murdered.

Purchase Links
Review
When I first heard about this book I was told that it's the second book in a series, but can also be read alone. I also had the opportunity to get a copy of the first book and since I prefer to read a series in order whenever possible, I got the first book as well.
This was described to me as historical sci-fi and that immediately captured my attention, but I have to admit that when I started reading I was a little unsure on the book. I was quickly swept up by the story, though, and found myself thinking about it when I wasn't reading it. In fact, yesterday at work all I could think about was getting home to finish the novella!
The world in this series is amazing and so well-described that I felt like it was totally real. There's a perfect level of creepiness in this book–not so creepy that it'll be a huge turn-off for those don't like scary stories, but just enough to keep the reader on their toes. There was one scene in particular that had my heart racing a little bit.
My only complaint about this book (and the first in the series) is that they're too short. Yes, they're novellas, but I wished they were a little longer than they were. They're not too short to the point of doing a disservice to the story, but I was always a little surprised when I realized I was almost at the end of the story. I was happy I read them both in a row, because I think I would have been a little sad to stop reading after just one.
About T. Frohock
T. Frohock has turned her love of dark fantasy and horror into tales of deliciously creepy fiction. She currently lives in North Carolina where she has long been accused of telling stories, which is a southern colloquialism for lying. Check out more of her works and news at www.tfrohock.com.
HAVE YOU READ THIS BOOK? WHAT WERE YOUR THOUGHTS?