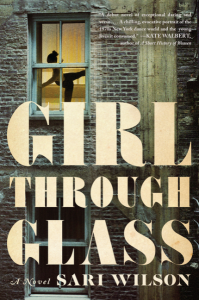 Note – I received a copy of this book from the publisher in exchange for an honest review. All thoughts and opinions are my own. No affiliate links were used in this post.
About Girl Through Glass
Hardcover: 304 pages
Publisher: Harper (January 26, 2016)
An enthralling literary debut that tells the story of a young girl's coming-of-age in the cutthroat world of New York City ballet–a story of obsession and perfection, trust and betrayal, beauty and lost innocence.
In the roiling summer of 1977, eleven-year-old Mira is an aspiring ballerina in the romantic, highly competitive world of New York City ballet. Enduring the mess of her parents' divorce, she finds escape in dance–the rigorous hours of practice, the exquisite beauty, the precision of movement, the obsessive perfectionism. Ballet offers her control, power, and the promise of glory. It also introduces her to forty-seven-year-old Maurice DuPont, a reclusive, charismatic balletomane who becomes her friend and mentor.
Over the course of three years, Mira is accepted into the prestigious School of American Ballet, run by the legendary George Balanchine, and eventually becomes one of "Mr. B's girls"–a dancer of rare talent chosen for greatness. As she ascends in the ballet world, her relationship with Maurice intensifies, touching dark places within herself and sparking unexpected desires that will upend both their lives.
In the present day, Kate, a professor of dance at a midwestern college, embarks on a risky affair with a student that threatens to obliterate her career and capsize the new life she has painstakingly created for her reinvented self. When she receives a letter from a man she's long thought dead, Kate is hurled back into the dramas of a past she thought she had left behind.
Moving between the past and the present, Girl Through Glass illuminates the costs of ambition, perfection, secrets, and the desire for beauty, and reveals how the sacrifices we make for an ideal can destroy–or save–us.

Purchase Links
Amazon | IndieBound | Barnes & Noble
My Review
All I had to see was that this book is about the dance world and I knew that I wanted to read it. As someone who has always been drawn to dancing, I love dance stories, whether it's a book or a movie. And as much as I love the happy and fluffy stories, I've never turned away from the stories that showcase the darker side of the dance world.
GIRL THROUGH GLASS doesn't shy away from that. Through the eyes of a young ballerina the reader sees the harsh realities of being a dancer: the time and effort that went into dance classes, the fear of being told they needed to lose a few pounds if they wanted to be a ballerina, seeing fellow dancers leave without any word or warning. But since we see these realities through the eyes of this young, promising dancer, we also see the passion and desire that she has to go as far as she can. We feel her fear that she won't make it in this world. It created an uneasy tension as all of these negatives came with the passion that Mira feels for ballet.
I had an uneasy feeling as I read the book, and I don't say that as a negative. I saw where the book was headed pretty early on and there are some disturbing plot points. Again, I don't say that as a negative. It makes the book what it is. But it was an uneasy read as I anticipated what was coming. Having an idea of what was ahead didn't detract from the book at all and I still felt moments of surprise even though I expected certain things that happened.
I will say that the beginning of the book dragged a little, but halfway through I had a hard time putting it down. It wasn't necessarily what I'd describe as a page-turner, but I was turning pages, because I wanted to know how it would all play out.
Kate's job as a dance historian definitely caught my attention and dance history is something that I want to look into more! Sari Wilson credits some of the books that she turned to for research while writing this book and I'd love to read some of those.
Overall, I appreciated reading this book. It's one that I have a hard time saying I "enjoyed" reading, but I'm glad I did. If the book sounds interesting to you, I'd recommend reading it, especially if you like dance stories, too.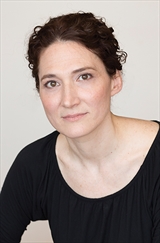 About Sari Wilson
Sari Wilson trained as a dancer with the Harkness Ballet in New York and was on scholarship at Eliot Feldís New Ballet School. She was a Wallace Stegner Fellow at Stanford University, a fellow of the Provincetown Fine Arts Center, and her fiction has appeared in Agni, the Oxford American, Slice, and Third Coast. She lives in Brooklyn with her husband, the cartoonist Josh Neufeld.
Find out more about Sari at her website, and connect with her on Twitter.
[Tweet "Take a peak into the 1970s dance world with GIRL THROUGH GLASS by Sari Wilson. #TLCBookTours #GirlThroughGlass #amreading"]
HAVE YOU READ THIS? WHAT WERE YOUR THOUGHTS?