Note – I received a copy of this book from the publisher through TLC Book Tours in exchange for an honest review. All thoughts and opinions are my own.
About It Happens in the Hamptons
Paperback: 384 pages
Publisher: William Morrow Paperbacks (May 9, 2017)
In the Hamptons, everyday people are as complicated and fascinating as millionaires…
When Katie Doyle moves across the country to the Hamptons, she is hoping to find summer employment, new friends for her young son, and a chance to explore a new love affair with George, a dazzling investor. What she finds is a strange cocktail of classes, where society's one-percenters vacation alongside local, hardworking people who've lived in the Hamptons for generations. Though she's looking forward to her move, Katie is wary about mingling in her boyfriend's East Coast elite circles. She soon discovers Southampton isn't all that it seems to be on the surface–and neither are the people who live there.
As George takes Katie on a whirlwind tour of country clubs, haute couture, and lavish events, Katie is amazed to witness sudden whims becoming dire needs, extramarital affairs blossoming right and left, and people purchasing friends and loyalties like a pair of shoes. Even the middle-class townspeople maintain determined facades while maneuvering like sharks among the wealthy summer invaders.
The more Katie becomes immersed, the more she learns the stories of both the upstairs and downstairs, the upper crust and middle of the road. The combustion between classes becomes explosive as the summer tears on. Betrayals, a sexual predator, and a missing person lost in murky waves drive the reader on a racing Learjet through impossible twists and turns before landing at the shocking conclusion. When Katie meets Luke, a marine biologist and teacher, he makes her what it is she really wants as she understands the life she's begun for herself is built on shifting Hamptons dunes.
My Thoughts
I really like books that take place in the Hamptons. I've never been there and it isn't even a place that I have a desire to go to, but I love books that take place in seaside communities on the East Coast and in experience with books that take place in the Hamptons, there's usually a lot of relationship tension, which is what I love most in fiction. I love exploring tension in relationships. It really doesn't matter if it's romantic, familial or a friendship–if there's a relationship between people that can be put through something that can create a lot of tension, I love exploring that.
This was an interesting book to read, because there were sections that had me turning pages and there were sections that didn't capture me quite as much–mostly, I had trouble putting the book down when there interactions between Katie and Luke.
The book moved more slowly than I thought it would–it wasn't quite as flashy as I anticipated, but that didn't bother me either. It just took me by surprise. It also took me about fifty pages or so to get acclimated to the story and the different characters involved.
The chapters in this are pretty short, which might bother some, but I think it's great for people who might have short periods of time to read and want to be able to dip in and out of a book and not worry about putting the book down mid-chapter.
I always think of spring and summer as the perfect time to pick up a book with a beach setting and this is definitely one to consider!

Purchase Links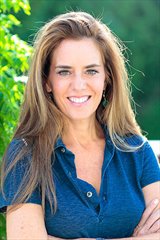 About Holly Peterson
Holly Peterson is the author the May 2017 social satire fiction release, It Happens in the Hamptons. In 2016, she curated an outdoor cooking book, Assouline's Smoke and Fire: Recipes and Menus for Outdoor Entertaining. In 2014, she published The Idea of Him and of the New York Times bestseller The Manny in 2007. She was a Contributing Editor for Newsweek, an Editor-at-Large for Talk magazine and an Emmy Award-winning Producer for ABC News, where she spent more than a decade covering everthing from trials of the century to global politics. Her writing has been published in the New York Times, Newsweek, Town and Country, The Daily Beast, Vogue, Harper's Bazaar, Elle Decor, Departures and numerous other publications.
Find out more about Holly at her website, connect with her on Facebook, and follow her on Twitter and Instagram.