Note – I received a copy of the book from the publisher through TLC Book Tours in exchange for an honest review. All thoughts and opinions are my own. No affiliate links were used in this post.
About The Mermaid's Daughter
Paperback: 448 pages
Publisher: William Morrow Paperbacks (March 7, 2017)
A modern-day expansion of Hans Christian Andersen's The Little Mermaid, this unforgettable debut novel weaves a spellbinding tale of magic and the power of love as a descendent of the original mermaid fights the terrible price of saving herself from a curse that has affected generations of women in her family.
Kathleen has always been dramatic. She suffers from the bizarre malady of experiencing stabbing pain in her feet. On her sixteenth birthday, she woke screaming from the sensation that her tongue had been cut out. No doctor can find a medical explanation for her pain, and even the most powerful drugs have proven useless. Only the touch of seawater can ease her pain, and just temporarily at that.
Now Kathleen is a twenty-five-year-old opera student in Boston and shows immense promise as a soprano. Her girlfriend Harry, a mezzo in the same program, worries endlessly about Kathleen's phantom pain and obsession with the sea. Kathleen's mother and grandmother both committed suicide as young women, and Harry worries they suffered from the same symptoms. When Kathleen suffers yet another dangerous breakdown, Harry convinces Kathleen to visit her hometown in Ireland to learn more about her family history.
In Ireland, they discover that the mystery–and the tragedy–of Kathleen's family history is far older and stranger than they could have imagined. Kathleen's fate seems sealed, and the only way out is a terrible choice between a mermaid's two sirens–the sea, and her lover. But both choices mean death…
Haunting and lyrical, The Mermaid's Daughter asks–how far we will go for those we love? And can the transformative power of music overcome a magic that has prevailed for generations?
My Thoughts
A Little Mermaid fairy tale retelling? As soon as I heard about it I was sold!
I have some mixed feelings, though, so I'll start with what didn't work for me. The book was told in multiple points of view, with interludes from sea witches. I don't have a problem with multiple viewpoints, but I had trouble with it in this book. I'm not quite sure why. I also wasn't a fan of the interludes from the sea witches. It added a unique look at the narrative of The Little Mermaid (and when we're talking about a Little Mermaid-retelling, it's the original fairy tale, not the Disney version), but it didn't work for me. The story also felt a little long to me; it could have been much shorter and the length would have been perfect.
That being said, I thought this was a fantastic retelling of The Little Mermaid! I loved the musical aspect of it–I always love when music is incorporated into the novel. I loved how parts of the original fairy tale were worked into the novel–the stabbing pains in her feet and all of that. It kept the darker tone of the original. The writing was beautiful and there were some quotes that I wanted to write down. I thought this was a really unique take on the original story–it's not like any other Little Mermaid retellings that I've read. I really did enjoy it!
Find It

Purchase Links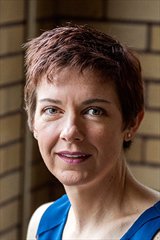 About Ann Claycomb
Ann Claycomb's fiction has been published in American Short Fiction, Zahir, Fiction Weekly, Brevity, Hot Metal Bridge, The Evansville Review, Title Goes Here, and other publications. She has twice been nominated for a Pushcart Prize and has an MFA in fiction from West Virginia University.