Note – I received a copy of the book from the publisher through TLC Book Tours in exchange for an honest review. No affiliate links were used in this post. All thoughts and opinions are my own.
About Red Leaves
Paperback: 448 pages
Publisher: William Morrow Paperbacks; Reissue edition (April 11, 2017)
In the tradition of Ira Levin's A Kiss Before Dying and Donna Tartt's The Secret History comes a suspenseful thriller from the international bestselling author of The Bronze Horseman–an utterly captivating story about four Ivy League students whose bizarre friendship leads to a twisted maze of secrets, lies, betrayal, and murder.
As the star player of Dartmouth College's women's basketball team, Kristina Kim is beautiful, intelligent, and fearless. But though she's just 21, Kristina has already had her share of heartache, loss, and dark secrets that haunt her. She's best friends with Conni, Albert, and Jim, but the only one who seems to really know her is Albert. With long dark hair, tattoos, and a rebellious streak, Albert doesn't fit in with the rest of the clean-cut Ivy Leaguers. Like Kristina, he has his share of secrets–secrets that are beginning to unravel this intimate circle of friends.
One wintry Thanksgiving weekend tragedy strikes…
When Detective Spencer O'Malley goes to investigate something suspicious at the foot of a steep hill on Dartmouth's campus, he doesn't expect that the frozen, naked body found in deep snow would belong to Kristina Kim–the remarkable young woman he met recently who entranced him. Now Spencer will never know if the chemistry he had with her was real. All he can do is find her killer.
Spencer is pulled into the strange, complex web of the surviving friends. Many important questions about Kristina's murder cannot be answered, such as: why did none of them report her missing for nine days before her body was discovered? The more Spencer digs, the more clear it becomes that each of the three has a motive for killing Kristina. And as Spencer, seeking justice for a dead girl, is led down a labyrinth of deceit, every new revelation proves more shocking than the last–and more dangerous.
Simons handles her characters and setting with a certain skill, creating mystery from the ordinary, protected lives of these Ivy League kids, slowly peeling away their deceptions to reveal denial, cowardice, and chilling indifference–an engrossing story. Publishers Weekly
My Thoughts
This is a hard book to review. I have some mixed thoughts on it, so I'll start with what I struggled with and end with what I enjoyed.
The book felt a little long. There were conversations that would last for pages and didn't need to, in my opinion. The dialogue between characters often felt awkward and unrealistic. The characters themselves were hard to connect with. They often felt one-dimensional. There were also things that didn't make a lot of sense to me, like Kristina's dog, which felt like a contrived part of the plot. It felt like a very '90s story to me–and I'm not just saying that because it takes place in the early '90's. It always threw me off when I saw dates listed, but there were certain ways things were described that reminded me of books I read when I was younger.
That being said, I was incredibly fascinated by the mystery and it definitely had me turning pages. As I read this I wondered if I would have enjoyed it more if I hadn't read it during a super busy month. When I finished it, I thought it would be a book to read during a frigid, snowy night in the middle of winter with a hot beverage and cozy blanket.

Purchase Links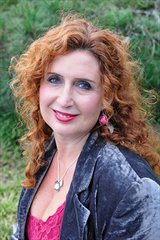 About Paullina Simons
Paullina Simons is an internationally bestselling author whose novels include Bellagrand and The Bronze Horseman was born in Leningrad in 1963. As a child she immigrated to Queens, New York, and attended colleges in Long Island. Then she moved to England and attended Essex University, before returning to America. She lives in New York with her husband and children.
Find out more about Paullina at her website, follow her on Twitter, and connect with her on Facebook.