Note – I received a copy of this book from the publisher through TLC Book Tours in exchange for an honest review. All thoughts & opinions are my own.
About Soulmates
Paperback: 320 pages
Publisher: William Morrow Paperbacks; Reprint edition (June 13, 2017)
"For anyone who has ever suspected something sinister lurking behind the craze of new-age spirituality, Jessica Grose has crafted just the tale for you. With the delicious bite of satire and the page-turning satisfaction of a thriller, Soulmates is a deeply compelling, funny and sharply observed look at just how far we will go to achieve inner peace." – Lena Dunham
A clever, timely novel about a marriage, and infidelity, the meaning of true spirituality, perception and reality from the author of Sad Desk Salad, in which a scorned ex-wife tries to puzzle out the pieces of her husband's mysterious death at a yoga retreat and their life together.
It's been two years since the divorce, and Dana has moved on. She's killing it at her law firm, she's never looked better, thanks to all those healthy meals she cooks, and she's thrown away Ethan's ratty old plaid recliner. She hardly thinks about her husband–ex-husband–anymore, or about how the man she'd known since college ran away to the Southwest with a yoga instructor, spouting spiritual claptrap that Dana still can't comprehend.
But when she sees Ethan's picture splashed across the front page of the New York Post–"Nama-Slay: Yoga Couple Found Dead in New Mexico Cave"–Dana discovers she hasn't fully let go of Ethan or the past. The article implies that it was a murder-suicide, and Ethan's to blame. How could the man she once loved so deeply be a killer? Restless to find answers that might help her finally to let go, Dana begins to dig into the mystery surrounding Ethan's death. Sifting through the clues of his life, Dana finds herself back in the last years of their marriage . . . and discovers that their relationship–like Ethan's death–wasn't what it appeared to be.
A novel of marriage, meditation, and all the spaces in between, Soulmates is a page-turning mystery, a delicious satire of our feel-good spiritual culture, and a nuanced look at contemporary relationships by one of the sharpest writers working today.
My Thoughts
They had me at "Nama-Slay"! As soon as I read the synopsis I knew I wanted to read this book. I thought I'd like it, but to be honest, I didn't realize just how much I'd enjoy it. It had me turning pages and I was totally engrossed in the book. I loved seeing how the story unfolded and getting different sides to it as well. I found that I was so interested in what was actually happening as I read that I didn't try to figure out the mystery on my own, I was just ready to go along for the ride.
I'll admit that at the end I had a WTF moment. It wasn't related to the mystery at all–that came to a satisfying conclusion. And it wasn't a bad ending to the book… I'm not sure how I feel about it personally, but it was fitting and I'm sure there are some people who would really like it.
But don't let my WTF moment at the end turn you away… it really was an enjoyable read and I'd recommend it. It's a quick read and just a great way to spend some time during the summer if you're looking for a new book!

Purchase Links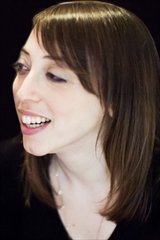 About Jessica Grose
Jessica Grose is a writer and editor. She was previously a senior editor at Slate and an editor at Jezebel. Her work has appeared in the New York Times, Glamour, Marie Claire, Spin, and several other publications, and on Salon.com. She lives in Brooklyn with her husband.
Find out more about Jessica at her website, and connect with her on Twitter.