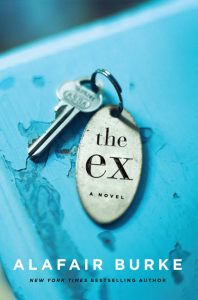 Note – I received a copy of this book from the publisher in exchange for an honest review. All thoughts and opinions are my own. No affiliate links were used in this post.
About The Ex
• Hardcover: 304 pages
• Publisher: Harper (January 26, 2016)
Twenty years ago she ruined his life.
Now she has the chance to save it.
In this breakout novel of suspense in the vein of LUCKIEST GIRL ALIVE and THE GIRL ON THE TRAIN, a woman agrees to help an old boyfriend who has been framed for murder—but begins to suspect that she is the one being manipulated.
Widower Jack Harris has resisted the dating scene ever since the shooting of his wife, Molly, by a fifteen-year-old boy three years ago. An early morning run along the Hudson River changes that, when he spots a woman in last night's party dress, barefoot, enjoying a champagne picnic alone, reading his favorite novel. Everything about her reminds him of what he used to have with Molly. Eager to help Jack find love again, his best friend posts a message on a popular website after he mentions the encounter. Days later, that same beautiful stranger responds and invites Jack to meet her in person at the waterfront. That's when Jack's world falls apart.
Olivia Randall is one of New York City's best criminal defense lawyers. When she hears that her former fiancé, Jack Harris, has been arrested for a triple homicide—and that one of the victims was connected to his wife's murder—there is no doubt in her mind as to his innocence. The only question is, who would go to such great lengths to frame him—and why?
For Olivia, representing Jack is a way to make up for past regrets and absolve herself of guilt from a tragic decision, a secret she has held for twenty years. But as the evidence against him mounts, she is forced to confront her doubts. The man she knew could not have done this. But what if she never really knew him?
Praise for The Ex and Alafair Burke
"With an all-too-real mass shooting in a richly observed Manhattan as its springboard, The Ex is an expertly crafted, intricately woven novel that is as emotionally complex as it is riveting."—Kimberly McCreight
"Burke's female characters are always very involving, with big, strong voices." —Gillian Flynn
"A major talent."—Harlan Coben
"Burke writes deftly about secrets buried close to home."—Meg Gardiner
"Burke's novels always deliver and constantly surprise. They're both addictive and utterly rewarding."—Megan Abbott

Purchase Links
Amazon | IndieBound | Barnes & Noble
My Review
This book was compared to THE GIRL ON THE TRAIN and I believe Burke has co-authored a few books with Mary Higgins Clark, so I knew this was a book that I had to read.
I'll start with the characters. I liked them, but I didn't feel particularly close to any of them. I really enjoyed reading about Olivia and enjoyed the information about her life that came out throughout the novel. I liked the novels, but I wouldn't say I loved them. Still, I enjoyed the time I spent with them while reading this novel and wanted to know more about them we learned more about what happened to them in the past.
What really drew me into this book was all that we didn't know. There was the overall mystery, of course, which was really engaging. I was wrapped up in what happened and all the evidence and research that was done as Olivia investigated the case. But I was also interested in the personal mysteries: why was Olivia so haunted? What was it that she did to Jack that was so bad (other than break his heart)? The unknowns had me turning pages.
I will say that there was one little storyline that I thought went on a little long. I think it was to help us get to know Olivia more, but it went on longer than I thought was necessary. And there was one thread that I wanted more of a conclusion for. I also thought the pacing was a bit slow at times.
Overall, I really enjoyed this. You all know I love mysteries and this was a compelling one. My mind was racing the entire time I was reading this as I came up with theory after theory. One of the theories that I had in mind throughout the novel turned out to be right, but I definitely questioned it and came up with other theories as I read the book. If you like mysteries, you should check this out. I've already recommended it to a couple of friends.
About Alafair Burke
Alafair Burke is the New York Times bestselling author of ten previous novels, including the standalone thrillers Long Gone and If You Were Here, and the Ellie Hatcher series: All Day and a Night, Never Tell, 212, Angelís Tip, and Dead Connection. She is also the coauthor of the Under Suspicion series with Mary Higgins Clark. A former prosecutor, she is now a professor of criminal law and lives in Manhattan.
Find out more about Alafair at her website, connect with her on Facebook, and follow her on Twitter.
HAVE YOU READ THE EX? WHAT WERE YOUR THOUGHTS?
[Tweet "Looking for an engaging mystery filled with secrets? Check out THE EX! #amreading #bookworm"]