A family friend was in town this weekend and it was so great to see her and spend some quality time together. She lived with my family during the week while she commuted to the Twin Cities for work for about two years when I was in high school so she's like a big sister to me and she doesn't visit enough. Last night she made her world famous jambalaya and it was delicious! (Well, probably not world famous, but it's tasty.) Little One wiggled in excitement and received lots of tummy rubs. And we ended the night watching my favorite movie of all time, Undercover Blues. She left after church and brunch today and I spent the rest of the day working on clearing off my DVR and going through Bloglovin'. I was a little behind!
How have you been spending your Sunday?
READING Witches of East End, by Melissa de la Cruz, which I started reading last year but put down before I was too far into it. I had a reason, but I don't remember why anymore. I wanted to get back into it so I picked it up this week.
WRITING the usual: blog posts and my book.
LISTENING to Lifetime movies. Clearing off the DVR.
THINKING about my workout schedule this week.
SMELLING nothing. I woke up with a cold yesterday. I should have known when I was coughing on Friday.
WISHING that clothes would fold and put themselves away.
HOPING that this cold will hurry up and leave.
WEARING black pants, a gray and black lace blouse and a sweater.
LOVING my Jawbone Up. I got it this week and it's been fascinating to see how much (or little) I walk and how well (or not well) I sleep.
WANTING a cup of coffee, but it's a little too late to drink some now.
NEEDING a new box of tissues and some cough drops.
FEELING not the greatest, but not the worst.
CLICKING through Bloglovin'. I need to get caught up!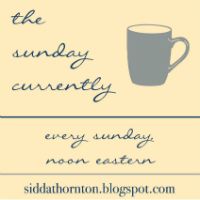 Last week on the blog:
// Weekly Wishes #22
// Favorite Book of the Month: January 2014
// The 2014 Directive: February
// Beauty Talk: em cosmetics waterliner
// Project 365 { January 16 – January 31 }