My niece has the coolest school assignment right now: watch as much of the Olympics as possible and write about it. It would have been the perfect assignment for me, if my teachers had ever assigned the same thing. I had her over last night so we stayed up late and watched the team figure skating short programs and the opening ceremony. We had a lot of fun!
READING blogs. I just finished The Next Full Moon by Carolyn Turgeon and am trying to decide what to read next. I'm thinking about reading Anna Karenina but I'll probably read something else at the same time.
WRITING the usual: blog posts and my book.
LISTENING the Olympics. And watching, of course.
THINKING about all that I need to get done this week.
SMELLING freshly made hummus. So good!
WISHING that this week will be as productive writing-wise as last week was.
HOPING that all the last minute details go smoothly this week before a good friend of mine gets married this weekend. I'm so excited for the wedding!
WEARING yoga pants and a sweatshirt, my usual Sunday uniform if I go to church on Saturday night.
LOVING all the figure skating that has been on so far. When I was younger I wanted to be an Olympic figure skating. I even used to skate around on roller skates and pretend that I was ice skating. And that's my embarrassing story for the day.
WANTING a new notebook. I've been doing a lot of writing by hand lately so I'm filling mine up.
NEEDING to write down my workout schedule for next week.
FEELING cold. I have been cold all weekend.
CLICKING through Bloglovin'.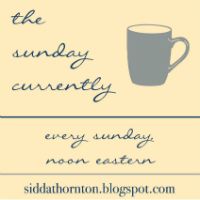 Last week on Dreams, etc.:
// Weekly Wishes #23: February
// Beauty Talk: Em Cosmetics Products that I Like
// Movie Review: Undercover Blues
// Thankful Thursday
// High Five for Friday