I thought I'd share one last picture from my trip, taken from a scenic overlook. I've taken advantage of having a few extra days off work after our vacation to take it easy and not do much at all. I have been reading a lot this week and that's all that I have on my mind. Books, books and more books. For the last couple of months I haven't enjoyed reading all that much, so it feels good to enjoy sitting down with a book and soaking in the words.
READING a lot lately. I just finished Thanks for the Memories by Cecelia Ahern.
WRITING to do lists. It's back to the real world tomorrow after some downtime.
LISTENING to Dracula. Since I wasn't taking the bus to work every day, my audiobook listening time went down.
THINKING about what book to read next.
SMELLING homemade soup on the stove.
WISHING for warmer weather this weekend. We had snow last week. Little One loved it, but I did not.
HOPING that the snow will continue to melt.
WEARING a new spring/summer nail polish shade. As much as I love the dark winter colors, I think I like the lighter blues and greens even more.
LOVING Little One. I missed her while I was gone!
WANTING a chocolate chip cookie.
NEEDING to finish up my bookshelf reorganizing project. I started it last night and it isn't going to be quite as easy to do what I had in mind as I thought it would be.
FEELING like a bit of a recluse this weekend. I've been hanging out with Little One since returning from vacation since I had a couple of extra days off and it's been really nice to relax for awhile.
CLICKING through Bloglovin' to get caught up on posts that I missed while I was on vacation.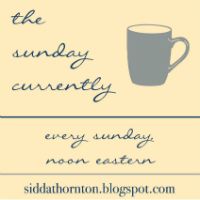 Last week on Dreams, etc.:
// Project 365 { March 16 – March 31 }
// Beauty Talk: Baby Shower Make-Up
// Airplane Reading
// Washington, D.C. { Part One }
// Washington, D.C. { Part Two }
// Washington, D.C. { Part Three }