It's Palm Sunday! Can you believe Easter is only a week away? I picked up a couple of egg coloring kits to do with my niece and nephew this weekend. I found a volcano explosion kit and a glitter kit. I thought they would have fun with that!

It's been a busy weekend! Family friends were in town yesterday so we had lunch with them at our favorite Afghani restaurant. After that we went to church for the Palm Sunday service. My mom and I were planning to go see a movie today, but when I looked online on Friday they had a time listed and when I looked online today while standing at the movie theater, that time wasn't listed anymore. We decided to go to look at plants instead. I picked up a few, so we'll see how they survive. I'm not known for my green thumb. I've been able to keep bamboo alive and I've had some luck with hibiscus plants in the past, but any sort of houseplant usually hasn't survived long.
How was your weekend?
READING And We Stay by Jenny Hubbard.
WRITING a novel that I started last year. I realized it was going nowhere fast so I put it on hold to think about it for awhile. I was hit with inspiration for a couple of scenes this weekend so I took a short break from my other novel to work on this one.
LISTENING to Lost Voices by Sarah Porter, which is one of my favorite mermaid novels. I want to finish the series, so I thought I'd listen to the audiobook of the first to refresh my memory.
THINKING about art and writing plans. I'm excited about some of the things that I have in the works!
SMELLING coffee. I mix coffee grounds with ground cocoa beans and it's the most delicious mixture.
WISHING that the floors would vacuum themselves. I don't know why, but that's one task that I dislike more than others.
HOPING to have more time to read this week.
WEARING a new eyeliner that I'm trying out.
LOVING Dark Nebula. I used to play that game all the time and I found it when I was going through my phone the other day. I started playing it again and I fell in love all over again!
WANTING to watch the last episode of The Good Wife. I need to do that tonight. I haven't watched it since the episode.
NEEDING to tackle the pile of laundry that I have.
FEELING tired. It's been a busy weekend.
CLICKING through a gardening website. I want to look into the possibilities for different citrus trees for the summer. Maybe I should wait to see how my houseplants do before I get too ambitious!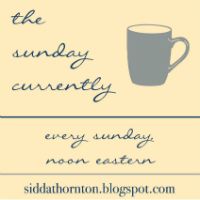 Last week on Dreams, etc.:
// Weekly Wishes #31
// Beauty Talk: Inside My Travel Make-Up Bag
// Movie Review: Veronica Mars
// Reading Roundup
// Daily Diaries #1
// Audiobook Roundup