With New Year's Eve just a few days away I guess Christmas is officially over. I hope that all of you had a wonderful week! Little One has been a bump on a log since everyone left yesterday and has stayed pretty close to me. I think the holiday wore her out, too!
READING Night Film by Marisha Pessl. You might remember that I started reading this in the fall but I put it down because I was so distracted at the time and wanted to savor every moment of the book–I love it that much! I started reading from the beginning again and I love it just as much the second time around.
WRITING nothing but blog posts right now. I decided to take a little novel writing break until the New Year.
LISTENING to Christmas movies on Lifetime. Catching up on the movies saved on my DVR! I'm watching one right now that reminds me of Sweet Home Alabama.
THINKING that it's nice to have some down time after such a busy, but wonderful, week.
SMELLING my mom's cinnamon rolls. Love them!
WISHING that today would just slow down a little. It's speeding by!
HOPING for a wonderful New Year for everyone.
WEARING a charity: water sweatshirt and pajama pants. I have not been the most ambitious person today.
LOVING Little One. That little pup makes me incredibly happy.
WANTING a cup of tea.
NEEDING to wash make-up brushes and repaint my nails.
FEELING exhausted after such a good but busy week.
CLICKING through Bloglovin'.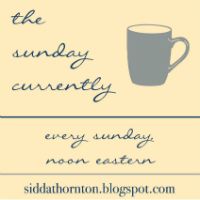 This week on the blog:
// Blogmas { Day 23 }: Favorite Christmas Book
// Blogmas { Day 24 }: Christmas Playlist
// Blogmas { Day 25 }: Merry Christmas
// Flashback Vaca: Colorado Springs
// High Five for Friday
// Beauty Talk: Top 10 2013 Beauty Finds