Note – I received a copy of this book from the publisher through TLC Book Tours in exchange for an honest review. All thoughts and opinions are my own.
About The Wild Inside
Hardcover: 304 pages
Publisher: William Morrow (March 20, 2018)
"The Wild Inside is an unusual love story and a creepy horror novel – think of the Brontë sisters and Stephen King." – John Irving
A promising talent makes her electrifying debut with this unforgettable novel, set in the Alaskan wilderness, that is a fusion of psychological thriller and coming-of-age tale in the vein of Jennifer McMahon, Chris Bohjalian, and Mary Kubica.
A natural born trapper and hunter raised in the Alaskan wilderness, Tracy Petrikoff spends her days tracking animals and running with her dogs in the remote forests surrounding her family's home. Though she feels safe in this untamed land, Tracy still follows her late mother's rules: Never Lose Sight of the House. Never Come Home with Dirty Hands. And, above all else, Never Make a Person Bleed.
But these precautions aren't enough to protect Tracy when a stranger attacks her in the woods and knocks her unconscious. The next day, she glimpses an eerily familiar man emerge from the tree line, gravely injured from a vicious knife wound – a wound from a hunting knife similar to the one she carries in her pocket. Was this the man who attacked her and did she almost kill him? With her memories of the events jumbled, Tracy can't be sure.
Helping her father cope with her mother's death and prepare for the approaching Iditarod, she doesn't have time to think about what she may have done. Then a mysterious wanderer appears, looking for a job. Tracy senses that Jesse Goodwin is hiding something, but she can't warn her father without explaining about the attack – or why she's kept it to herself.
It soon becomes clear that something dangerous is going on . . . the way Jesse has wormed his way into the family . . . the threatening face of the stranger in a crowd . . . the boot-prints she finds at the forest's edge.
Her family is in trouble. Will uncovering the truth protect them – or is the threat closer than Tracy suspects?
My Thoughts
I recently read a book that takes place in the Alaskan wilderness and when it ended I was fine saying goodbye to the characters, but I wasn't ready to leave the setting. I picked up my next read – The Wild Inside – and was so happy to see that it takes place in the Alaskan wilderness again. I knew that when I agreed to read the book, but had forgotten. I guess this year I just have a thing for Alaska. The Alaskan landscape compliments a thriller so well and really becomes a character in itself. There must be something about it – it became a character in the last book I read, too.
This is a book I would have LOVED to have listened to on audiobook. The author made a few stylistic choices that I struggle with while reading: she left out quotation marks for dialogue and wrote in a dialect. These were perfect choices for this novel, but I just struggle with reading books that are written this way. Listening is another thing entirely and this book would the perfect audiobook.
That being said, while I typically want to put down a book that has one or both of those things, this one grabbed me from the beginning. Bradbury has some beautiful descriptions that I really enjoyed reading – I even pulled out my phone to write them down. Just as some of her descriptions were so beautiful, some made me really uncomfortable. Overall, the writing was wonderful.
The story kept me on my toes and I definitely wanted to keep reading so that I could find out what happened.

Purchase Links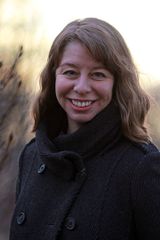 About Jamey Bradbury
Born in Illinois, Jamey Bradbury has lived in Alaska for fifteen years, leaving only briefly to earn her MFA from the University of North Carolina, Greensboro. Winner of an Estelle Campbell Memorial Award from the National Society of Arts and Letters, she has published fiction in Black Warrior Review, Souíwester, and Zone 3, and she has written for the Anchorage Daily News, TheBillfold.com, and storySouth. Jamey lives in Anchorage, Alaska.
Find out more about Jamey at her website, and connect with her on Facebook, Twitter, and Instagram.