Note – I received a copy of this book from the publisher through TLC Book Tours in exchange for an honest review. All thoughts and opinions are my own. No affiliate links were used in this post.
About Under the Influence
Paperback: 352 pages
Publisher: William Morrow Paperbacks (November 22, 2016)
The New York Times bestselling author of Labor Day and After Her returns with a poignant story about the true meaning–and the true price–of friendship.
Drinking cost Helen her marriage and custody of her seven-year-old son, Ollie. Once an aspiring art photographer, she now makes ends meet taking portraits of school children and working for a caterer. Recovering from her addiction, she spends lonely evenings checking out profiles on an online dating site. Weekend visits with her son are awkward. He's drifting away from her, fast.
When she meets Ava and Swift Havilland, the vulnerable Helen is instantly enchanted. Wealthy, connected philanthropists, they have their own charity devoted to rescuing dogs. Their home is filled with fabulous friends, edgy art, and dazzling parties.
Then Helen meets Elliott, a kind, quiet accountant who offers loyalty and love with none of her newfound friends' fireworks. To Swift and Ava, he's boring. But even worse than that, he's unimpressed by them.
As Helen increasingly falls under the Havillands' influence–running errands, doing random chores, questioning her relationship with Elliott–Ava and Swift hold out the most seductive gift: their influence and help to regain custody of her son. But the debt Helen owes them is about to come due.
Ollie witnesses an accident involving Swift, his grown son, and the daughter of the Havillands' housekeeper. With her young son's future in the balance, Helen must choose between the truth and the friends who have given her everything.

Purchase Links
My Thoughts
I'll be honest and say that when I first started reading this book I didn't think I liked it very much. It took me a while to get into it. The style of writing isn't one that that I'm necessarily drawn too. If you've read my book reviews for awhile you probably know that I like to feel like I'm part of the story. With UNDER THE INFLUENCE I was definitely being told a story, so I felt disconnected from the story for a while. There were scenes that drew me in and characters that really captivated my attention (because I either liked them or didn't), but I still wasn't sure how I felt about the book.
And then I realized just how invested I was. I was so irritated over the treatment of one character, and I wanted to scream at Helen to really take a look at the people around her. I found that I was turning pages more and more to get to the end. And while it did feel like the story went on for a while, I always knew that it was leading to something.
The end of the book was both a heartbreaking and beautiful. And totally worth the read. If you check this out, and like me you feel it's a little slow, give it time. The story will seep in and you will be captivated.
In the bonus material, the author also writes about where she finds inspiration for her stories. I loved reading some of the background for this novel and for her other stories as well. I already have another one of her books and I will hopefully be able to pick that up early in 2017. I'll definitely look for the rest of her books in the near future.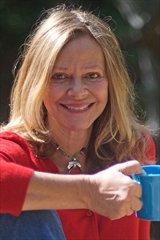 About Joyce Maynard
Joyce Maynard is the author of eight previous novels, including To Die For, Labor Day, The Good Daughters, and four books of nonfiction. Her bestselling memoir, At Home in the World, has been translated into sixteen languages. She lives in California.
Find out more about Joyce at her website, and connect with her on Facebook.
Have you read a book by Joyce Maynard? What should I read next?
[Tweet "UNDER THE INFLUENCE by Joyce Maynard is a novel that will seep in and captivate you. #tlcbooktours #undertheinfluence #amreading"]