Another month has come and gone. November wasn't as productive for me, due to the cold that I got at the beginning of the month, with a bad cough that's still lingering. Everyone I have known who has come down with this cold has had the lingering cough for awhile, but hopefully it's almost gone! I was able to get some important things done, though, and that felt really good!
WRITE 50,000 WORDS
I'm a bit behind right now, but I have a short work week, so I am confidant that I will finish the rest over the next week.
ORGANIZE SOME PAPERWORK
I did this over the weekend and it feels so good to have everything in a place.
MAKE WORK OUTS A PRIORITY
This didn't happen the first half of the month. I had that cold and was exhausted by time I was home from work. Last week I started working out again and it felt so good! Although somehow I hurt my ankle within the last few days. I don't think it was a workout that did it, though.
PRACTICE THE FLUTE
This didn't happen either. I really didn't want to pull it out for the first time in ages while I battling a cold. Sorry, flute. Maybe next month.
How has your November been?
// Linking up with Melyssa from The Nectar Collective.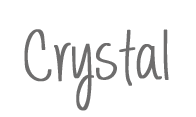 Bloglovin' // Instagram // Twitter // Pinterest // Facebook