Hello, everyone! I'm sorry for the lack of a Sunday Snippets post. I sat down to write one and it was literally just a paragraph long. I've been dealing with a bad cold all weekend, so there wasn't much to write about. I basically spent my weekend cuddling with Little One, reading, watching the third season of American Horror Story and working on NaNo.
I always love the start of a new month, because it's the perfect time to start fresh and create new goals. This month I'm going to try to not pack too much into my to-do list. NaNoWriMo will be keeping me busy! But there are some things that I'd to accomplish.
WRITE 50,000 WORDS
Of course I have to include this. My November Directive is to participate in NaNoWriMo this month, although I'm not exactly following the rules, and I'm working on existing projects instead of a new one. I'm excited to try and finish these stories by the end of the year, though! I have a word count tracking spreadsheet ready to go on my computer to make sure that I'm staying on track. 50,000 words is 1,667 a day (a number that is probably etched in the minds of all who have participated in NaNo), which is 11,669 words per week. Totally doable, especially with this wonderful thing called coffee. 🙂
ORGANIZE SOME PAPERWORK
I have a basket of paperwork that really needs to be filed so… I should probably do that! It'll reduce clutter make me feel a little more at ease that everything is where it should be.
MAKE WORK OUTS A PRIORITY
I've seriously been slacking on working out and I need to get back into it. I can feel that I'm not moving around enough and I'm putting an end to that this month.
PRACTICE THE FLUTE
I played the flute from fifth grade through my high school graduation and I always told myself that I would keep playing the flute after high school. I did for awhile, but then life became really busy and I stopped pulling it out. It got to the point that I was worried I had forgotten the fingerings for notes (I remembered them!). I was afraid of what I might find when I looked in my flute–for which I blame one of my band teachers, who always reminded us to look into our instruments before school if we didn't play all summer to see what was growing inside. (I found nothing.) But when I started to play, my tone was awful. I pulled a stack of magazines off my flute books when I reorganized my closet last month so it's time to dust off my flute, look inside (eek!) and start playing again. Maybe by Christmas I won't cringe when I hear how airy my Christmas songs sound!
WHAT ARE YOUR GOALS FOR THE MONTH?




// Linking up with Melyssa at The Nectar Collective for Weekly Wishes.
PS – If you missed it, I announced November's book for the book club on Saturday!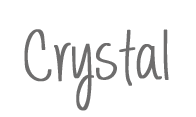 Bloglovin' // Instagram // Twitter // Pinterest // Facebook