// My parents, because they're pretty great.
// My siblings, because they're pretty great too.
// My niece and nephews, who motivate and inspire me.
// Little One, who brings so much love and joy.
// Wolfie, who has been with my family through a lot over the years.
// My job, which has been such a great experience in so many different ways.
// Books, which allow me to have adventures and travel all over the world.
// Writing, an escape that brings me so much joy, even on the most frustrating of writing days.
// Coffee, which helps me get through each day.
// A warm house, because I live in Minnesota and it's winter.
// Easy access to clean water.
// My faith and the freedom to practice it.
// Blogging, a fun and inspirational space on the internet.
// All of you, I've had so much fun getting to know all of you and I'm looking forward to continuing to follow all of your blogs.
WHAT ARE SOME THINGS THAT YOU'RE THANKFUL FOR?
Tell me what you're thankful for in the comments or share them on Twitter or Instagram (be sure to tag me!) and I'll share it with a link back to your blog or social media in a post later this week!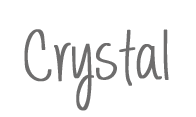 Bloglovin' // Instagram // Twitter // Pinterest // Facebook